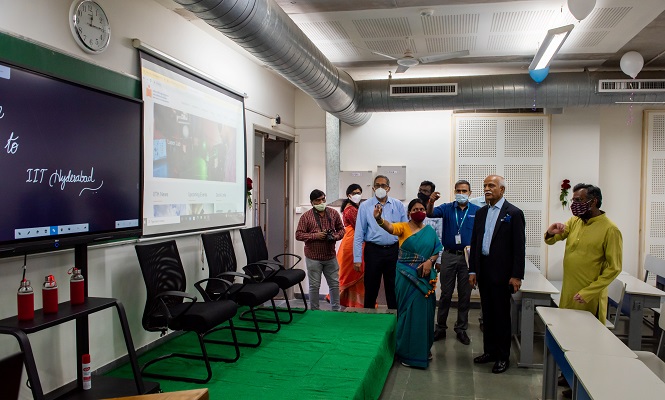 Target: ₹ 3,04,50,000 ($ 395850)
Raised: ₹ 1,09,07,281 ($ 141794.65)
No. of Donors : 4
Completion Date: 31st March 2023
Description:
IIT Hyderabad has evolved teaching to the students through online mode thanks to the pandemic. Interestingly this transformation has taken place rather smoothly without too much disturbance. However, there are some limitations in conducting the classes through online mode like lack of two-way interaction between the teacher and student.
Educationists are of the view that hybrid learning will become the way of life in imparting knowledge to the students. Towards this, IIT Hyderabad has taken initiatives to set up hybrid classrooms to take advantage of both online and offline modes of teaching.
Hybrid class rooms are part of digital transformation and would also help to get connected to students from all parts of the world by the teacher to ensure that good quality teaching is available to all needy students wherever they are. Hybrid classrooms incorporate a live streamed video of in-person class activities that serves as a two-way conversation, integrating remote and in-person students in a singular environment. Hybrid learning can improve the flexibility and customization of classes, the accessibility of learning, and the use of tools during any course proceedings. This experience facilitates an all-around better teaching/learning environment for faculty and students.
Funding and Naming of Hybrid classrooms by the companies:
IIT Hyderabad is planning to equip its class rooms with facilities and display panels enabling interactive display. This will enable digital transformation in teaching at IIT Hyderabad.

On an average each class room will need Rs. 10.5 Lakhs to be made as hybrid class room. 

Corporates/companies can be named as per their wish. 
IIT Hyderabad has already upgraded nine classrooms to Hybrid classrooms funded by a corporate thourgh their CSR commitments.

Z